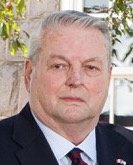 Francis G. Garrett
Francis G. Garrett, 81, of Adams, passed away Sunday morning September 10, 2017 surrounded by his loving family at the Hospice of Jefferson County, Watertown, NY.
Calling hours will be held from 5:00 - 8:00 pm Thursday, September 14 at the Piddock Funeral Home, Adams. The funeral service will be at 11:00 am Friday, September 15, at the Adams United Methodist Church, with Reverend Dean Hill officiating. Burial will follow at 1:30 pm in the St. Lawrence Cemetery, Rosier, NY.
Francis was born March 8, 1936 in Watertown, the son of Raymond and Faye (Morehouse) Garrett. He graduated from Lyme Central High School and received an Associates Degree in Business Administration in 1969 from Jefferson Community College.
Francis married Audrey K. Comins of Chaumont on July 12, 1954 at the All Saints' Church, Chaumont. They lived for 40 plus year in Adams.
He entered the US Air Force 1954 and was honorably discharged in 1958. Francis was employed by the New York State Park Service from 1960 to 1981. Upon his retirement from the Park Service, Francis and Audrey purchased the Overhead Door Company in Watertown and continued to run the business until his retirement in 1999.
He served as a Board Member and Vice Chairman on the Thousand Island Bridge Authority from 1991 until his death. He was instrumental in helping with the completion of projects pertaining to the Thousand Island Bridge and Bolt Castle.
Francis is survived by his wife Audrey Garrett; two sons, Jody (Doreen), Clayton, NY, Tim (Sally), Denver, CO; three daughters, Laurel Harris, Watertown, NY, Linda Gable, Cicero, NY and Lisa Barry, Adams, NY; his sister, Cathy Davis, Cape Vincent, NY; eight grandchildren, six great grandchildren, and several nieces and nephews.
He was predeceased by two brothers, James and Patrick.
He was a member of the Adams United Methodist Church.
In lieu of flowers, donations may be made in his memory to the Adams United Methodist Church, 36 E. Church Street, Adams, NY 13605 and the Hospice of Jefferson County, Watertown, NY.